A joint blog about children's healthy snacking by paediatric dietitian Paula Hallam and psychologist Dr Emma Haycraft
There has been a lot in the press recently about children's snacks so we thought it would be timely to discuss this subject and have joined forces to bring you this blog .

Paula and Emma
You've probably heard that Public Health England recently issued advice to keep children's snacks to 100 calories each and a maximum of 2 per day. This applies to packaged / shop bought snacks ONLY but we think this message has been lost in the emphasis on calories. This '100 calorie per snack' does not relate to fruits and vegetables, as we should still be recommending the 5-a-day message to everyone, including children!
We are not really comfortable with calorie counting for children, we would always advise parents to rather concentrate on the nutrient quality of foods offered to their children as well as trying to teach children to recognize signals for feeling full. This will set them up for the future.
We also think it is very important to look at a child's WHOLE diet and not just their snacks. We always advise parents to think of the variety of snacks offered across the week and not just focus on one day.
Toddlers and young children have small stomachs and they are unlikely to eat enough energy and nutrients in just three meals per day. They therefore need two planned nutritious snacks per day in addition to their meals. Simple ideas such as cutting up fruit or vegetables can encourage children to eat them, for example offering cut up apple as opposed to a whole apple.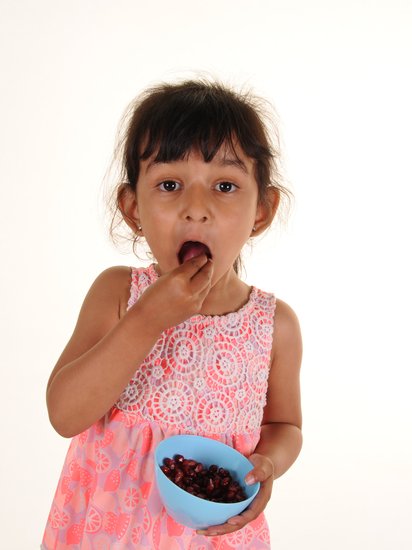 Snacks are a useful way to top up a child's nutrient intake especially as snacks are an opportunity to offer more fruits and vegetables to children. However, it is important to offer age-appropriate portion sizes for snacks (and meals) so that children don't fill up too much on snacks. Another important aspect to snacking is to make sure it is a scheduled snack so that it is offered between meals…timing is key.
Also try to offer children their snack at a table or away from distractions such as the television or iPad, as research has shown that excessive amounts of snacks tend to be eaten when children are distracted.
It is important to have a supply of nutritious snacks available at home and let your children have some choice in their snack items, especially older children. For example: "Would you like an apple or a satsuma?". Try not to use open questions such as "what would you like for your snack?"  (the same advice applies to meals).
Paula's snack ideas for toddlers (1-4 years)
These snacks are suitable for toddlers and I have given an idea of portion sizes that are appropriate for this age group. Aim for a small snack full of nutrients…
Rainbow fruit kebabs – try adding these fruit to each kebab stick:
Red grape
Blueberry

Kiwi fruit slice

Mango or pineapple chunk

Orange segment

Strawberry

Cream cheese and cucumber Pinwheels - ¼ to ½ small tortilla wrap spread with cream cheese and rolled up, cut into slices and served with 2-4 slices cucumber
Peanut butter and banana pitta breads – ¼ to ½ pitta bread with ¼ to ½ banana sliced
Fruit and frozen yoghurt "bites" – dip strawberries/blueberries/raspberries into plain yoghurt with a splash of vanilla essence, then pop in the freezer for a few hours
Spicy dried apples with cinnamon – finely slice an apple (core removed), dust with cinnamon and place in a preheated oven (160 degrees Celsius) for about 45 minutes until the apple slices are golden brown.
Plain popcorn – ½ to 1 small cup.
Sprinkle with cinnamon for a slightly sweeter flavoured popcorn or with some mixed dried herbs for a savoury flavour or plain as a crunchy snack!
Paula's snack ideas for 5-11 year olds
If your child is having a very active day, they will probably need a more substantial snack (see ideas below).

If they have some days that are not as active as others, try to focus on nutrient dense foods such as fruits and vegetables for snacks.

 Peanut butter and banana sandwich
Hummus, oatcakes and carrot sticks

Oaty snack bar – made from 150g oats, 2-3 ripe bananas, handful of dried fruits, handful of seeds, 1 tablespoon honey, 100ml milk – mix all ingredients together and bake at 180 degrees C for 20 minutes.

Plain yoghurt topped with fresh fruits and a sprinkle of cinnamon

Peppers / cucumber sticks / celery with a yoghurt and chive dip

Homemade plain popcorn with a glass of milk and an apple
How to feed children is important too!
As well as what to feed children, it is important to think about how we feed them.  One unintended consequence of Public Health England's new snacking recommendations is that they might result in more foods being a 'restricted' part of a child's diet.
Restricting children's access to foods, particularly if children are aware that certain foods are being limited, can make these foods more appealing.  Imagine the scenario when a child who can see a tin full of biscuits asks: "Can I have another biscuit?".  Concerned about limiting their child's calories from snacks, a parent might respond: "No, you've already had one biscuit".  If this scenario occurs on multiple occasions, or becomes a daily occurrence, then these biscuits will become 'prized' and children will start to desire them even more than they did initially.  Research shows that when foods are overtly restricted, children eat lots more of them when they subsequently have free access – e.g., at birthday parties or family gatherings.
Instead of overtly restricting food, i.e. to limit foods that children can see, it is better to covertly restrict foods.  By not having biscuits in the house, or by pre-portioning them into ones/twos, this means that you won't have to say "no" when your child asks.  Even better than having a tin of biscuits at home would be to stock up on the healthy snacks that Paula has suggested.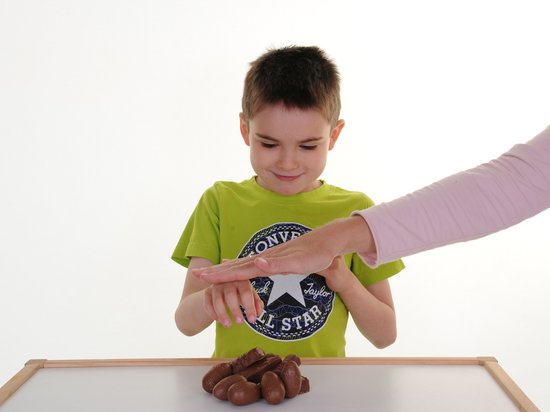 You can also try to create norms around eating.  If your child asks for crisps for their mid-morning snack, you could say that they can have some with lunch instead.  Explaining decisions to your child helps them to understand that you're not just saying "no", but that it's maybe not such an appropriate time to eat such a food.
It's also important that children are never forced to eat a food.  If you are offering your child healthy new snacks, they might initially resist eating these, hoping that if they refuse, they'll be given a more favoured (less healthy) treat instead.  However, it takes time for children to learn to like and enjoy many new foods, so you should continue to offer new snacks – even if they're not enthusiastically devoured initially – but never force a child to eat something that s/he doesn't want to.  Forcing a child to eat a food can cause less liking for that food, as well as creating a negative environment around eating.
The home environment is crucial for helping children to develop healthy eating behaviours.  Having healthy foods available and accessible are key to promoting healthy habits.  Why not chop up some cucumber / carrots / peppers / celery into sticks and pop these in the fridge?  These healthy snack foods are then available and accessible and, for older children in particular who might head straight to the kitchen after school to find a snack, this can be the difference between them having a healthy snack versus an unhealthy one.
Involving children in food purchases can also be helpful for promoting healthy eating habits.  If the idea of taking your children to the supermarket fills you with dread, and/or you're an online shopper, discuss food choices with your children instead.  "Which vegetables shall we choose to have as snacks this week?" / "Do you want to take some yoghurt bites or dried apples as a snack this week?".  Enabling children to have a say in what they are eating has been shown to make them more likely to subsequently eat – and enjoy – that food.
Paula & Emma x
---
Paula Hallam is a specialist paediatric dietitian with 20 years' experience working with children and their families to help them make the best nutrition choices for their health. Paula has worked in the NHS, private sector and consulted to charities and food industry. Paula currently runs her own paediatric nutrition practice and consultancy Tiny Tots Nutrition.
Dr Emma Haycraft is an academic psychologist at Loughborough University who researches caregiver feeding and children's eating behaviours.  She has been conducting research in this area for 15 years.  She is a co-creator of the award winning Child Feeding Guide website, app and online training courses, which share evidence-based information and support around feeding children with parents, caregivers and professionals.